"Local Football for Firies"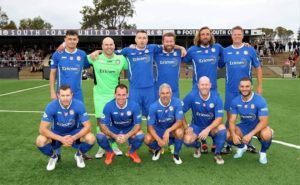 A great evening of football was organised by Adrian Arciuli and Albion Park City FC, with a Women's All Stars City v Country match and an APC FC Invitational XI taking on the Wollongong Wolves at Ian McLennan Park on Saturday January 18, 2020.
The APC FC Invitational XI included names such as Luke Wilkshire, Steve Corica, Scott Chipperfield, Brett Emerton and Robbie Farah amongst many others.
The evening was to raise money for The Salvation Army Australia's relief efforts on the South Coast and in the Southern Highlands and to acknowledge the RFS, with the DRB Group as a major sponsor of Albion Pack City FC, contributing $300 per goal scored in the main game.
With close to 1500 people in attendance, the Wollongong Wolves were too strong on the night winning the match 6 – 3. But with 9 goals scored, the DRB Group contributed a well-deserved $2,700 donation to the cause.
Overall over $20,000 was raised on the day, a fantastic effort!
The DRB Group congratulate Adrian Arciuli and Albion Park City FC for organising the game and we are all proud to be associated with a great community event.